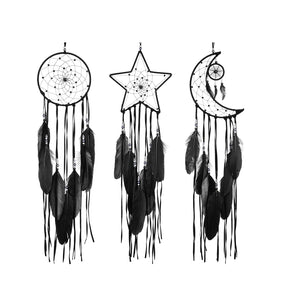 Jeffrey Munks Dream Catcher
Jeffrey Munks, a world traveling Piano Wizard, having performed across the globe at events such as Afrikaburn and Burning Man, to the High Seas of the Mediterranean, Atlantic, Caribbean and across the Pacific, Performing his Cosmic Piano production show on board various cruise liners. He has published two novels and composed four original albums. Currently in studio for a fifth orchestral album.
Nightmares pass through the holes and out of the window; The good dreams are trapped in the web, slide down the feathers to the sleeping person, banish nightmares and bring hope.
Measures 29.5" high in total
---
We Also Recommend
---